Before they embark on a packed 18-games-in-17-days stretch, the Cincinnati Reds have an off day. Off days are great for baseball players to rest up, tour a new city and eat a good meal. For baseball fans, though, an off day can suck. Sure, there's other baseball teams playing and games going on, but it's not the same as watching your own team play. So while you and I wait for the Reds to return to the field on Friday night, I had some thoughts about the Reds, Great American Ball Park, and baseball in general, and decided to write them down to share with Reds Country.
The Reds aren't in the playoff race, but they're not out of it, either.
With 36 games left in their season, the Reds sit at 60-66, 8 games out of the division lead and 7.5 games out of the second wild card spot. I don't believe at this point that they will be playing baseball in October, but that's not saying that they can't make it interesting down the homestretch. 23 of their remaining games are against teams above them in the Wild Card race, and the Reds have the opportunity to play spoiler while ultimately trying to reach .500 by season's end. As I tweeted out on Sunday, the Reds have played even baseball after their horrendous 1-8 start. If they can finish the season with 81 or more wins, that would be a monumental accomplishment after their awful 8-game losing streak.
The three-headed monster of Luis Castillo, Sonny Gray and Trevor Bauer will be exciting next year, and fans of opposing teams should be horrified.
All three pitchers could be considered aces on their own, and together they can be absolutely lethal. The trio went 19 innings and only gave up 4 earned runs and 4 walks while picking up 25 strikeouts in this past series against the Padres. Can you imagine those three guys being your first three starters in a playoff series? Watch out, National League.
Speaking of pitching, how have the Reds never had a pitcher win a Cy Young Award?
The Cincinnati Reds are one of only four MLB teams that don't have a Cy Young Award yet, along with the Rockies, Marlins and Rangers. They've had a pitcher finish second 4 times and fourth place 6 times, with the most recent being Johnny Cueto in 2012. Oddly enough, only one of those second place finishes came in a year where the Reds went to the playoffs, which was 1995. Maybe one of those three aces mentioned previously can take home the award in 2020.
Aristides Aquino couldn't have come up at a better time.
After the Reds traded Yasiel Puig to Cleveland, fans needed another player to rally around. Over the past few years, both Derek Dietrich and Scooter Gennett became fan favorites due to belting home runs. They definitely cooled off, and Aristides Aquino might have started his cool down already. (It's been four games without a dinger for the Punisher, a career high.) During his first two weeks on the job, though, Aquino swatted multiple balls over the fence, and earned his nickname by the length of his home runs and his propensity for hitting them on the first pitch of his at-bat. In his short time in the league, Aquino is hitting .313/.387/.641 for an OPS of 1.028, and has racked up 11 home runs and 23 RBI in 20 games. He's a bright, young prospect under team control for three more years, and if he can extend this hot stretch over the long haul he can be a great asset.
Is it time to pass on Jose Peraza?
With the offseason acquisition of Jose Iglesias and the recent addition of Freddy Galvis off waivers, the Reds added two middle infielders that fell out of favor with their previous clubs. Both have taken their opportunity with the Reds to hit the piss out of the ball and play great defense. What about Jose Peraza, though? The Opening Day shortstop hasn't been able to revive the magic from last year, where he had 182 hits and a .288 batting average. This year, he currently has only 74 hits and a .239 average. While batting average is a little bit outdated these days, on-base percentage is part of the new age of baseball, and Peraza is not delivering there. He has only walked 13 times overall for an OBP of .286, 40 points lower than his OBP last year. On the other hand, Galvis is hitting .438 and has an OBP of .441 in his 9 games with the club so far. Jose Iglesias is hitting .295 and has an OBP of .324, his highest marks since 2015. Iglesias is a free agent after this season, and Galvis has another year left on his deal. While both of those guys are 29, Peraza is 25 with 3 more arbitration years left before he reaches free agency. If he can't rebound before next season starts, he may be on his way back to the minors.
I'm a fan of the Reds' current front office approach.
While the Reds made one of the bigger deals of the trade deadline, it was certainly a head scratcher to some baseball pundits. While giving away an upcoming free agent isn't surprising for a team under .500 at the deadline, trading away a top prospect for a star pitcher with 1.5 seasons left on his deal is. That's how Dick Williams and Nick Krall want to organize their team in the future. They are willing to take on short-term deals in return for prospects that aren't yet ready for the major leagues, as evidenced by the Yasiel Puig-Trevor Bauer-Taylor Trammell trade, the Sonny Gray-Shed Long trade, and the Puig-Kemp-Wood-Farmer deal. The Reds made it through the offseason and trade deadline without giving up core prospects like Nick Senzel or Jonathan India, and are definitely better off after the trades they've made than if they had decided to stand pat with their younger players.
The Reds have a huge decision to make for next year, and it isn't player-related.
With Nike coming in next year to as the official provider of MLB uniforms, the Reds have a chance to make a change in their looks for the future. The current set of uniforms have been good for the club, but as we've seen them wear their throwback uniforms on weekends throughout the season, we know there's so much potential for what they could be wearing. Here are my official picks for the Reds' home, away, and alternate jerseys for 2020.
I'd like to drop the drop shadow, ditch the black bill on the road caps, and go with a cleaner look for the future. The 1969 throwback uniforms are the cleanest of the ones the Reds have worn so far this year. The players would probably be forced to wear sleeves for the road jerseys, but vest jerseys are bound to make a comeback soon. Why not start the trend? Also, the Reds only used those red jerseys that Barry Larkin is wearing in that picture for batting practice, but they're too good to leave in the past. I will not take any questions for these choices.
Great American Ball Park and Reds Country both have potential to make a hostile environment for visiting teams.
Outside of four playoff games and the 2015 All-Star festivities, there's not much else that other fans probably know about the home of the Reds or Reds fans. In recent years, the ballpark has only been full for Opening Day, bobblehead nights and Cubs games. (Thanks to those fake Cub fans for giving their hard earned dollar to the Reds instead!) Obviously, there hasn't been much for Reds fans to be excited about recently, and attendance has proved that. With the front office adding more weapons for 2020, though, the club and its fans have an opportunity to show the rest of MLB how we do baseball in Cincinnati. The club recently added $5 beer stands for pregame sales, but if we want to make the ballpark shake, why not extend those prices for every stand the entire game? The Banks can also step up and provide better deals for fans to enjoy before heading inside GABP. Wrigleyville started to grow in the mid-80s, and has become a staple for Cub fans in Chicago before heading inside the gates. Why can't the Banks become the same thing? We know how we can fill up the street before Opening Day. Once the Reds start winning again, the Banks might look like this every day.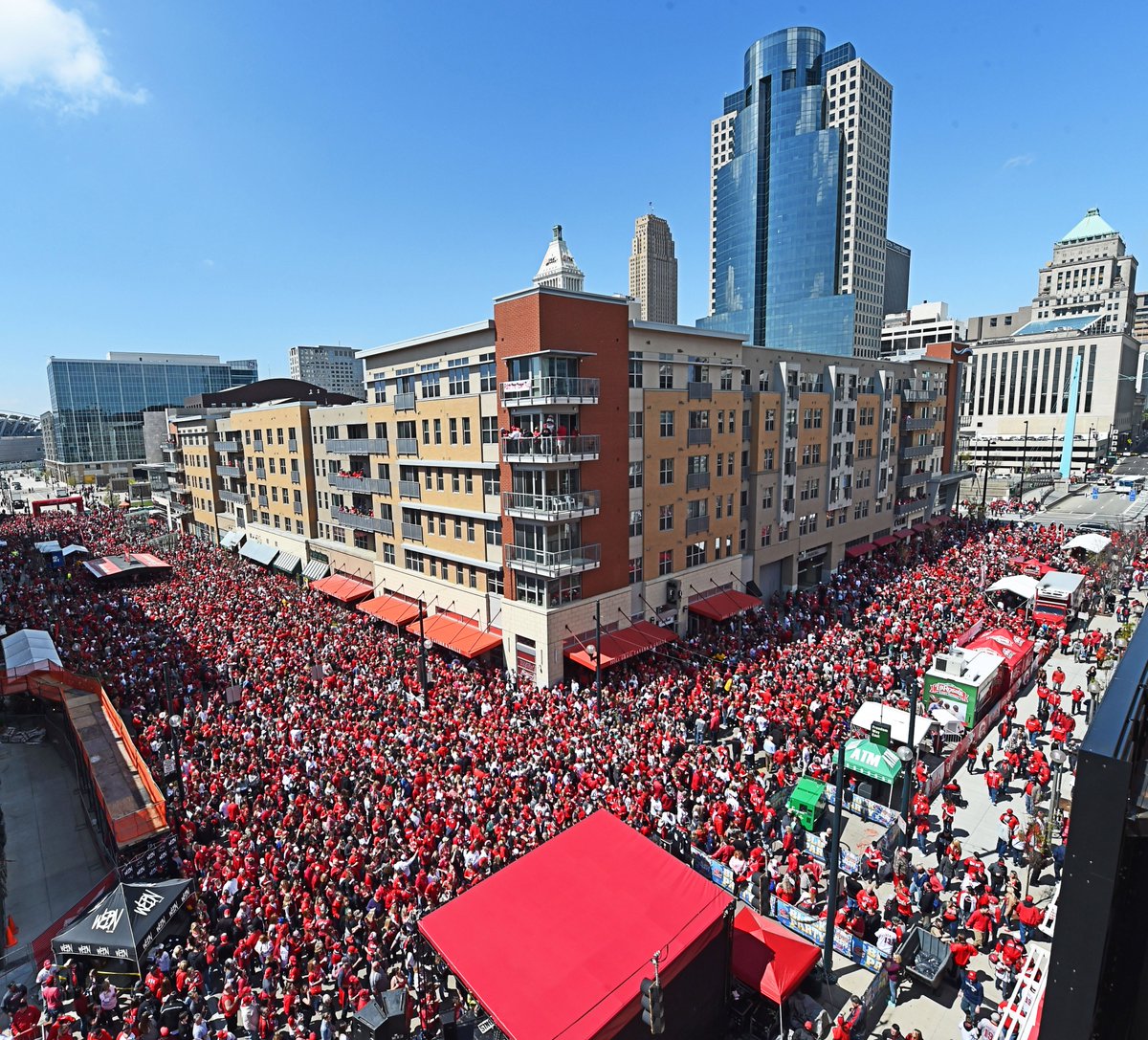 Why aren't the Reds using the camera angle from the 2015 All-Star Game for every game?
This is a small gripe, but with the recent evolution of pitching, the videos and gifs of pitchers making hitters look absolutely silly have been spread far and wide on the internet. The Reds' main angle doesn't do those pitchers enough justice. The funny thing is, the national FOX crew put their camera on the steamboat in center field to for a better view, and it's a huge difference. Here's the current view:
Now, compare that to the view of the 2015 All-Star Game:
It's right on top of the pitcher, and you can see how filthy a pitch is or have a better view on how a pitch might have missed the zone. With the current angle, it's hard to see movement or zone accurately. Sorry, riverboat season ticket holders, we need your spot for a better TV angle.
Does it really matter where offense comes from in baseball?
In case you're not paying attention to the news, old men are complaining about baseball again. This time, it's about the level of home runs and strikeouts, and how there's no more small ball offense. We've been hearing this over the past few years, and the balls are definitely juiced. Here's the thing, though: the total number of runs have stayed the same. Since the most recent expansion in 1998, the average MLB team scored 739 runs per season. In 2017, where the league record for homers was broken, the team average was 753 runs. The highest run-scoring year since 1998 was 2000, when the average MLB team scored 832 runs! Obviously, that was at the height of the steroid era, but we are at the height of the juiced ball/technology era. Hitting is more difficult than ever due to the amount of studying pitchers do and the shifts that defenses use to get outs. The fact is, the easiest results for a hitter are a walk or a home run. You don't run the risk of hitting it directly to a fielder who's been told where to stand because of your previous at-bats, or getting struck out by a pitcher who knows all of your weaknesses. If anything, you'd think these older players would enjoy the chess match of the shift and the pitch choices.
---
If you're still reading this, thanks for reading my ramblings. I hope to do this for every off day in the future, and we will look to get more blogs up on the site soon.