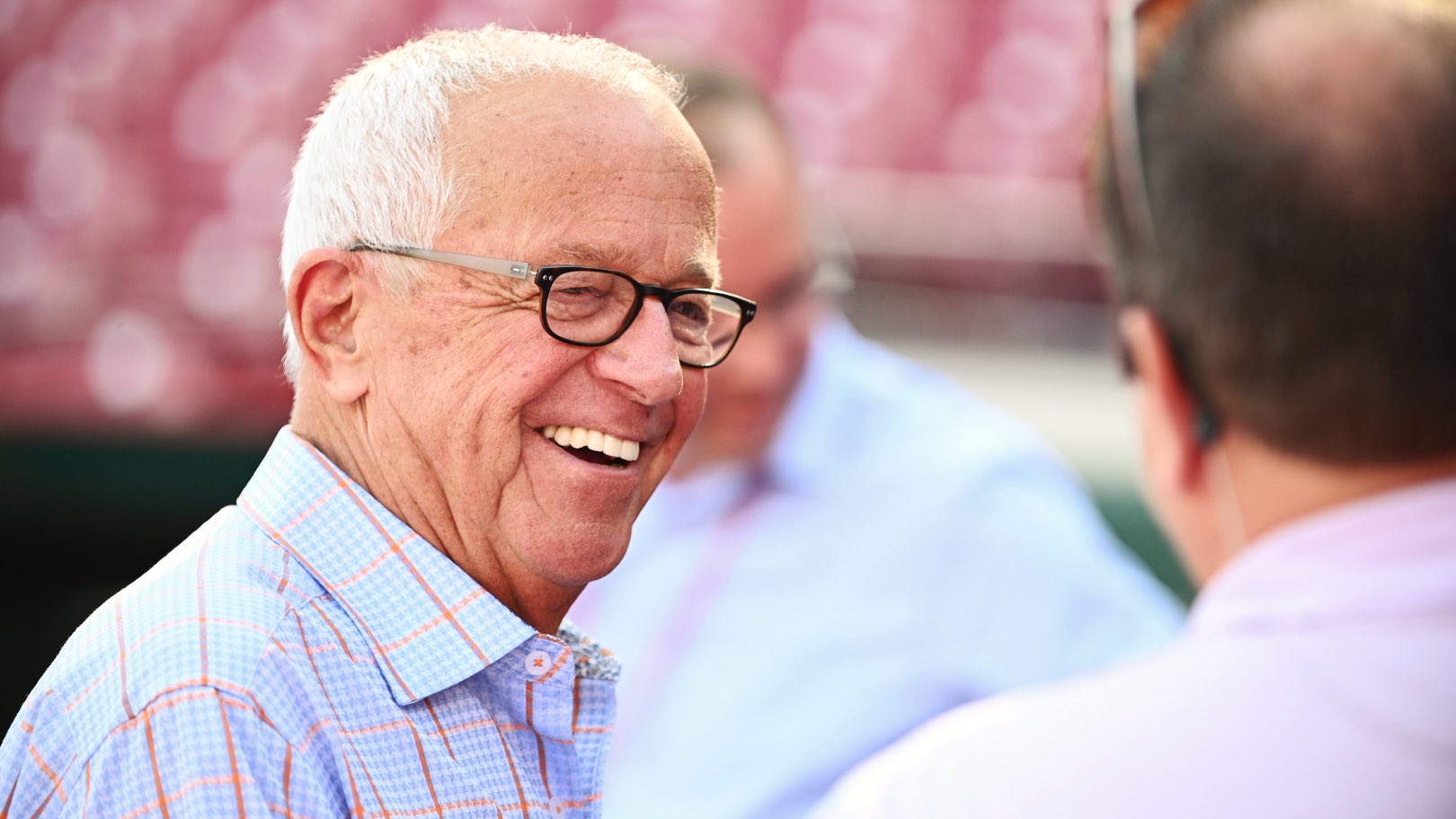 For as long as I can remember, I've been following Reds baseball and listening to Marty Brennaman call games. Seriously. Some of my very earliest memories involve baseball and the Cincinnati Reds. My dad started me early. I'm the oldest of my siblings, and you know my dad wasn't going to miss the opportunity to raise his first son as a die hard fan of the game of baseball and of course, the Cincinnati Reds. One of those earliest actual memories I have in my head is of my first baseball game at good ole Riverfront Stadium (Cinergy Field at that point, I suppose). I don't actually remember anything from the game itself, but I remember being outside the stadium and looking up at this massive structure. And I remember the red baseball cap which my Grandpa, for whom I'm named, bought for me from a vendor outside the ballpark that I was admiring. And a year later, my Grandpa, the older Don Bruemmer, who brought me so much joy that day and helped my dad show me the game of baseball, left us far too soon. I remember just being old enough to have an idea of what was going on, and I remember being disappointed I wasn't going to be able go to anymore games with him or play sock puppets with him, but the timing of it all left quite a mark on my young self. Even though I was just four or five years old, I understood the special connection we had in sharing a first name and I would miss the bond we built so quickly.
As I grew up I would hear stories about how much he loved the game and how great he was as a player in his own right. I'd hear the stories about the one-hitter he threw in his senior season at St. Xavier High School, where he pitched alongside future Hall of Famer Jim Bunning. I've been assured that if Grandpa never threw his arm out in college, he would've been the better pitcher! The connection I developed with him in just a few quick years of life drove my love for baseball and the Cincinnati Reds to this day. From there it became cheering on the Redlegs on TV with my dad from our home in Hyde Park, yelling at Barry Larkin to "Get a hit, ya bum!" It was around that time my dad would lend me a small transistor radio, where I discovered the joys of listening to Marty Brennaman and Joe Nuxhall call Reds baseball games. I couldn't tell you how many times I fell asleep with that radio under my pillow. I had to have gone through so many batteries on that thing, especially after I would try to stay up to listen to west coast games. No way it would get switched off before I drifted off to sleep.
One of the coolest moments of my childhood, which I remember vividly, was running into Marty out in Cincinnati one winter some 15 years or so ago. My family had taken me and my younger brothers downtown to see the holiday train display, and while this was always one of my favorite things to see each year, I found myself more transfixed by a voice I recognized than the trains speeding around their tracks. I'm not sure I entirely knew what Marty looked like at that point in my life, but the voice of the man leaning over the rail next to me and chatting with the man maintaining the train display was unmistakably the voice I always heard under my pillow hundreds of nights a year. I was far too shy to say anything to him in that moment and I remember just sort of staring at him in awe. Marty Brennaman was right next to me! Marty had quietly (or not so quietly, really) become my hero.
It was around that age, 9 years old or so, that I was starting to realize that I wasn't the most athletic kid in school, which was especially tough for a shy kid in a school where the kids who were picked first for teams at recess were easily the coolest and most popular kids in school. I remember just kind of avoiding the football games at recess eventually, and deciding that I got more joy out of trying to be like Marty and Joe. I would grab a buddy and sit down on the sidelines and broadcast the games. I'm not sure anyone was listening, but I started spending my recesses speaking into sticks that served as my imaginary microphones and describing all of the thrilling action of a bunch of little kids playing touch football. Every young boy at some point in his life has the dream of playing some professional sport in the future, and I surely wanted to be a pro baseball player. But before long, that dream shifted to the dream of becoming a professional baseball broadcaster.
Though I never gave up the dream of playing the game itself (I tried out for and was cut in the final round of cuts from my high school baseball team all four years. Still salty about that really), my love and fandom for the game and the Reds specifically was always a very important part of my life growing up. School was often difficult for me socially, but I could always come home and listen to Marty and Joe after a bad day. My relationship with my dad also wasn't always anywhere close to perfect, but we could always set everything else aside and talk Reds baseball. We share a lot of great memories around Reds baseball together. I remember sitting on our front porch with him listening to the WLW broadcast and trying to hear the fireworks being launched down at the ballpark after a big home run from Adam Dunn. Reds baseball brought a level of consistently to my life that I always appreciated. Those days of watching the struggling Reds teams of the early 2000s with the TV muted and the radio broadcast blasted with my dad are very special to me. It didn't matter to me that the teams were no good – I mean come on, I didn't really know any different anyway. To this day, though we live 1000 miles apart, one of the best ways my dad and I stay close is by talking almost daily about the struggles of our beloved Reds.
Baseball was my first love and the voice of Marty Brennaman was always a big part of that. In all honesty, I don't listen to as many games as I used to, but as a result hearing Marty's voice really does bring me back. It won't be the same without him in the booth. My Grandpa Don introduced me to Reds baseball, but Marty hooked me. Marty was my hero. He was the first celebrity of sorts I ever saw in person. He was someone I wanted to be like, whose career I wanted. He was as reliable and as sure a thing that I knew of, as long as I had fresh batteries in my radio.
Even today, he inspires me. Steve, Rob, Mike and I started this blog and podcast venture a year ago and named it for Marty's famous radio call celebrating victories, "And this one belongs to the Reds!" And though it isn't quite the same as the goals I once had of playing for the team or being the next Marty Brennaman, it feels like my own special way to honor that dream which his voice inspired in me by just becoming a small sliver of Reds media coverage. Sure we aren't exactly broadcasting the games or even sitting in the press box, but its been an incredible first season (even if the on field product hasn't been as good as we had hoped). I really do appreciate every single listener we get to Reds Country Radio (available on Spotify, iTunes, and Soundcloud), every reader of this blog, and every follower on the Twitter page (@ATBBTTR). It's become far more than just a product of my Reds fandom, but a deep connection to my family roots and a step towards fulfilling a dream that scrawny kid had while a transistor radio set to 700 WLW played the soothing sounds of Marty's voice in his ear, even though it was well past his bed time.
Thank you, Marty.
"If you're ready now, the starting lineups…"