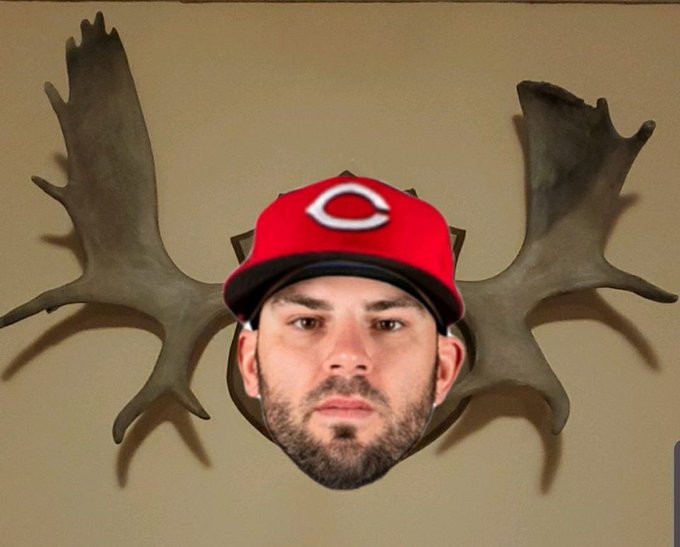 The hot stove came alive on Monday when Mike Moustakas signed with the Cincinnati Reds for 4 years, $64 million. The Moose is now loose in Cincinnati and came as an unexpected surprise to most Reds fans and baseball media. I didn't include him in my list of players that the Reds would go after this offseason, but the 31-year old infielder fills a big hole at second base left by Scooter Gennett and a group of other Reds that didn't pan out last year. His signing means more, though, than just a spot in the lineup.
Now that Moustakas will fill second base for the Reds, we know that the organization plans to keep Nick Senzel in center field for the time being. Unless the club decides to include him in a massive trade, this makes total sense to play your young star every day. Senzel showed big potential in 2019 before his season was ended by injury. He is a good defender that will only get better with more reps. His bat is made for the leadoff spot. With the lack of a standout center fielder available in free agency or via trade, Lil Senzii is a reliable option.
So where will the Reds decide to go with the rest of their offseason?
While the catcher spot looked like a position that the Reds wanted to improve on this offseason, top target Yasmani Grandal signed with the Chicago White Sox for 4 years and $73 million. Travis d'Arnaud and Stephen Vogt also were quickly snapped up by the Braves and Diamondbacks, respectively. For right now, it looks like the Reds will hold onto Tucker Barnhart and Curt Casali. Barnhart is a great defensive option that has built a relationship with the current pitching staff as he has risen through the farm system. His pitch framing has also gotten better since the David Bell era began. Curt Casali is a good backup that served well during Barnhart's absence last year. Don't forget that Tyler Stephenson is waiting in the minors and might be ready to go after the All-Star Break.
Some of our friends on #RedsTwitter are still convinced that the club will look to sign a shortstop in free agency. While the club picked up its 2020 option on Freddy Galvis, they want more. Galvis provides good defense and his offense picked up after he was acquired on waivers in August this year. Jonathan Villar was traded from Baltimore to Miami, but there are still a few options available. The biggest name for those Reds fans is Didi Gregorius, the former farmhand that is coming off a few great years with the Yankees. Trevor Story and Corey Seager are some of the other names that are "available" according to #RedsTwitter, but a trade for either player would include prospects that the Reds wouldn't want to part with. Personally, I believe the Reds are holding Galvis in order to keep the seat warm for Jonathan India's eventual arrival in Cincinnati.
The only other hole I see in the starting lineup is in left field. Former first rounders Jesse Winker and Phillip Ervin look to be a tag-team nightmare for opposing pitchers. Da Wink can mash off right-handed pitchers and Philly Triples cleans up against southpaws. Ideally, though, the Reds would want to have one player that can do both well. The club has been mentioned with Marcell Ozuna, and guys like Nicholas Castellanos (who believes every day is Opening Day, he'd love Cincinnati) and fan favorite Yasiel Puig are still available to play in left while hitting a ton of bombs at Great American. While it's not a position of dire need, the Reds may believe that adding one more big bat is necessary.
The focus for Dick Williams and Nick Krall this offseason has been on the offense, but there is one more spot in the already vaunted starting rotation that is up for grabs. In my opinion, the Reds could benefit from adding a lefty to fill that final spot. That lefty is Alex Wood. While he didn't get an opportunity to really show his talents this year with the Reds due to injury, he was recently seen working out at Driveline's Seattle complex in order to get ready for next year. If you've been following the Reds offseason already, you'll remember that they have signed Driveline's Kyle Boddy to lead their pitching throughout the organization. Is there maybe a connection? Time will tell. If the Reds decide not to pursue Wood, Tyler Mahle has earned his spot as the fifth starter, regardless of his 2019 record. Mahle showed promise in an outing against the Cubs in September and has potential to get even better under the tutelage of Derek Johnson and Caleb Cotham. While it is somewhat unorthodox to start five right-handed pitchers in the rotation, the 2004 Boston Red Sox won the World Series with five righties getting the bulk of the starts throughout that season. Is this confirmation bias? Maybe. Could it still work for the Redlegs? Maybe. Ken Rosenthal of The Athletic has also said that the Reds are still in on Zack Wheeler. While this doesn't seem realistic as the Reds would likely need to pay him over $100 million, I'd be bouncing off the walls if they were able to add him.
The bullpen was also good last year for David Bell. Realistically, the bullpen is pretty full as is. The Reds lost ATBBTTR's favorite reliever Jimmy Herget to the Rangers and also non-tendered Kevin Gausman. The club probably doesn't need to add anyone, especially with left-hander Cody Reed hopefully back in the pen to complement Amir Garrett in 2020. It would be nice for the Reds to resign Gausman to a team-friendly deal, but he may want to try his luck in a rotation instead of the bullpen. One outside name to follow is Daniel Hudson, who is a free agent after collecting the final outs in Game 7 of the World Series for the Nationals. He probably wouldn't require a hefty sum and would be a veteran option that was pretty damn reliable for the Nats this postseason. Another name is Blake Treinen, a reliever who had a great 2018 with Oakland but couldn't replicate his success last year. I predict that if the Reds don't take Treinen, they will stand pat and look to develop their young arms this year.
While the addition Mike Moustakas is a good start to the offseason, the Reds have more room to add on. Dick Williams and Nick Krall are ready to win now and are far from finished with next year's team. While our friends on #RedsTwitter may want the biggest and brightest names, the names and strategies I mentioned above are closer to their previous track record and current outlook. The Reds made the first big move of the 2019-20 offseason in the NL Central. Will they make the next one?